Remember when I said Sam and I were doing a show together?
I figured I'd tell you all about it.
You see, a few weeks ago one of my old friends mentioned they were doing a show that has been on my bucket list for years. Sam and I ended up reading for parts and were lucky enough to be asked to play the roles I have wanted us to play for ages.
It got even better though. Sam's schedule has changed so he is able to go to rehearsals pretty easily, plus, to make it even more fun, we will be performing for three weeks and one of those nights is our 13th wedding anniversary!
We've never done anything super special for an anniversary. Even for our wedding, we just eloped to the temple and Sam worked later that day anyhow. I always mope a bit about it so this is just a big wonderful anniversary gift to both of us. But, this is really special. We get to go to rehearsals together and we are just having a lot of Sam and Kimber and no kids time and while I love the kids, it is really nice to have time as a couple. I've missed that so much over the years.
So, guess what show we are doing?
Here is a giant screaming hint: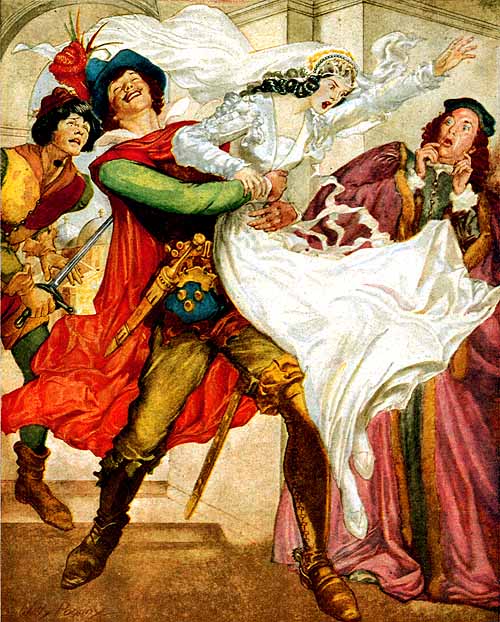 Did you guess yet?
Well, if you didn't, I'll tell you. We are going to be in "The Taming of the Shrew". Sam is playing Petruchio and I am playing Kate (the shrew, of course). We get to do that fun fight scene and everything. There is banter, kissing and violence... all things I am great at!
Now, to make this even more fun, we are inviting any of our friends who want to come to the show to please attend. The very best day to come will be February 17th (it is a Monday) because that is our 13th wedding anniversary and we would love to have people we love so much in the audience that night. Sorry, can't get you a deal on tickets, but you don't need to get us a gift other than showing up because you are the best present out there.
I'll try to get pictures as we get closer to the show.
A fun extra bonus is that our friend Jeff from Noteworthy days is in the show with us and it is so fun to perform with him again. I'm telling you, we have great friends all over the place. Lucky us.
So, come to the show, watch me slap Sam around, watch him kiss me and be a part of the best anniversary present ever.
PS. Warning now: Shakespeare does use grown up words. You've been warned.